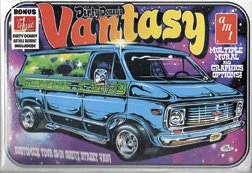 DIRTY DONNY "VANTASY" CHEVY STREET VAN AMT
#AMT-691 VERSIONS: Street
MOLDED COLORS: White, Clear, Red Clear, Amber Clear, Chrome Plated
SCALE: 1/25 MSRP: $20.99 USD
MODIFIED REISSUE
ENGINE: The 23-piece engine represents a mid-level (for trucks and vans) Chevy 350 small block with a single four-barrel carb and Turbo-Hydramatic 350 transmission, and is very similar to the one in AMT's currently out-of- production '72 Nova SS kit. The valve covers, carburetor, air cleaner, front cover, alternator, and four-bladed fan are all chromed–none of which would have been on a real full stock 350 from the factory. On the plus side, the engine includes a separate distributor and ignition coil, separate oil filter, separate starter, separate water pump, and a separate oil filler tube. Nicely done, but see the Comments section for some essential commentary regarding the viewing of this little jewel.
CHASSIS:
AMT did a superb job here back when this kit was first tooled. The frame and floor pan are separate and distinct. The frame itself has the upper front A-arms, gas tank, and most of the crossmembers molded in place save for the first unit and the second crossmember that connects to the separate engine mount. Front suspension is a 14-piece unit with separate kingpins, idler arms, steering box with column, and idler arm brackets. Working poseable steering is not designed into the kit but you can glue the components in a desired position, or, a mild rework of the kit's components and a little ingenuity can give you working poseable steering. At the rear is a nine-piece suspension with 12-bolt style rear axle, separate shocks and leaf springs, and a three-piece driveshaft unit. The two-into-one exhaust system is one piece and (oh yeah, here we go again) must be drilled out at the tip for realism's sake. The underhood area has a two-piece radiator and shroud, separate firewall, separate battery, and separate vapor can. Again, see the Comments section regarding these.
WHEELS AND TIRES:
Four chrome American Racing five-spoke mags ride on black vinyl Goodyear Polyglas GT L60-15 tires. What the instructions don't tell you, but the parts trees do, is that there is a full set of factory stock Chevy van/ truck open steelie wheels with four chromed Chevy bowtie period-correct "dog dish" hubcaps! Find four of a more pedestrian-style of tires in your spares box, and you're on your way to a full stock build! 34 Model Cars #169 • July 2012
INTERIOR:
The interior builds up off the floor pan. Note that there are no interior side panels whatsoever (and there never were in any rendition of this kit.) Seats are two-piece high back custom captain's chairs. The dash has very good engraving, and the engine cover is separate. You have a choice of stock or three-spoke plated Eelco-style custom steering wheels which mount to a plated shifter/turn signal stalk. A CB radio, placement optional, is also provided. BODY: The one-piece body is nicely done, capturing the character of the second-generation Chevy Van perfectly. This is a commercial van body, period– there are no engraved marks for opening up the side windows or windows in the twin rear doors, although with some ingenuity and a razor saw one could make that possible. There is an engraved line under the roof if you wish to use the optional clear sunroof to "let the sunshine in." At the front is a stock grille/ bumper unit with separate clear headlight lenses and separate amber clear park- ing light/turn signal lenses. Also provided is an optional custom grille filler/roll pan, though there is no custom grille supplied with the kit (the spares box can easily fill this need if so desired). At the rear are a chromed stock bumper and two clear red taillights, while side marker light lenses are in clear amber (front) and clear red (rear). Wipers are separate, delicate chromed items, as are the three-piece side mirrors. The multiple options this kit provides for customiza- tion include clear bubble portholes for the sides (with instructions on how to drill holes in the body for them), window louvers for the rear doors, clear skylight units for the roof, a two-piece spare tire cover for the left rear door, two custom side panels with exhaust ports, two three-piece dummy side pipes, a roof spoiler, and two chromed road lights with separate clear lenses. The wind- shield and two side windows are separate clear parts that are reasonably thin.
DECALS:
Included in the kit are two decal sheets that are actually a tad larger than the length and width of the box! Included on these are four different mul- ticolor motifs for the upper side panels (two of which incorporate the Vantasy logo), five different multi-color motifs for the lower side panels, three different multi-color motifs for the rear door sections, two Vantasy logos, two Evil Wiz- ard logos, two winged deaths-head motifs, four eyeball motifs (two large and two small), three skulls with crossbones (one large, two small), one large and two small shrunken heads, four game dice motifs (two large, two small), two small wrench motifs, and a collection of one-off art of varying types that have to be seen to be described. As has been the norm for Round2's kits lately, the decals are printed with a matte finish.