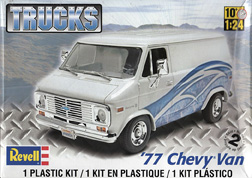 1977 CHEVY VAN Revell #7221
VERSIONS: Street
MOLDED COLORS: White, Clear, Chrome Plated
SCALE: 1/24
MSRP: $20.99 USD
MODIFIED REISSUE
ENGINE:
Like the AMT "Vantasy," this kit's 13-piece engine is a 350 small block Chevy with Turbo Hydramatic 350 transmission, this time done in typical 1970s simplified Monogram style. The undersized four-barrel carb and distributor are molded to the intake manifold. The valve covers and alternator are the only plated pieces. Note the fan is a five-blade unit. There is no ignition coil, oil filler tube, or water hoses.
CHASSIS: The frame and floorboards are a single unit in this kit, and the gas tank is molded in place. The transmission mount is separate. Front suspension is a simplified three-piece unit, and the rear suspension is a six-piece assembly with separate shocks. The exhaust system is correct for a 1975 or later van with a two-into-one piping feeding a catalytic converter, this feeding a dual rear pipe with pipe hanger. The tips of course will need to be drilled out for realism. The only underhood detail to speak of is a two-piece radiator with shroud.
WHEELS AND TIRES: Plated 1968-77-style Chevy rally wheels ride on four black vinyl no-name tires that were Monogram Goodyear GT Radials in a former life.
INTERIOR: The interior is a one-piece bucket with no back wall, but with seat support and the engine cover molded in place. Two highback captain's chairs are provided, but note there are no backs to them. The dash has decent engraving and features a steering column with molded in shifter and turn signal stalk, and a three-spoke Momo-type steering wheel. Separate are a cup holder tray for the engine cover, a CB radio, and a tape player.
BODY: The Chevy van body is nicely done and, like the AMT offering, has no side or rear windows–essentially a commercial van. At the front is a one-piece plated stock grille/bumper unit with separate clear headlight lenses and license plate, an optional front scoop-type air dam, and two plated windshield wipers. A plus is that the central portion of the grille is molded open. At the rear are two clear tail- lights (ready to be treated to the transparent red paint of your choice), a chrome stock rear bumper, an optional chrome CB antenna, an optional two-piece spare tire carrier, and an optional two-piece trailer hitch. There is also an option of two chromed side pipes, although there is no way to connect them with the exhaust system! Also optional is a clear skylight for the roof. Two plated two-piece California style side mirrors adorn the doors, however, there is a large sink hole in each mirror face, difficult to eradicate since each mirror has a half-round magnifier/blind spot mirror in the corner. The windshield is a one piece clear item that includes the vent windows, and is reasonably clear.
DECALS: The large decal sheet features a multi-tone blue side custom sweep motif, an Auto Crafters Custom Paint Works logo, three Accurate Plumbing Commercial and Residential logos for the sides and rear, amber and red side marker lights, a FOR SALE sign, two Chevy bow ties for the grille (one gold, one blue), a gold Chevy Bow Tie on a black license plate, two California VANNISH plates, and two Illinois 343 JK plates.