Factory 81 Rocket Bunny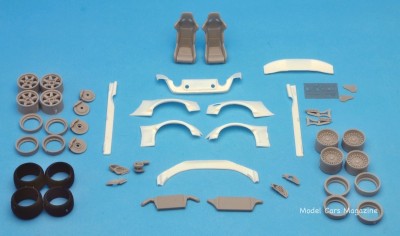 TK002 Rocket Bunny Toyota FRS / Subaru 86 transkit
MSRP $86.99 US
www.eightyone81.com
• Two sets of rims: SSR Mesh and TE37v
• Two types of intercoolers: Vmount or normal
• One turbocharger
• One set of stretch tires included
• Full wide-body kit (front and rear fenders, lower front apron, side rocker panels, rear valance)
• Rocket Bunny rear spoiler logo with photoetched side plates
Worldwide production limited to 286 sets only
---
Facebook has become a great way to connect with new model car builders, and even some aftermarket companies. Recently, we were introduced to a really cool company called Factory 81.
At first it looked like they only produced a limited number of rims and tires for tuners, but that first look was a little bit too quick. It turns out Factory 81 not only makes some great rims and tire sets, but they have produced some very impressive trans-kits as well. I was really impressed with their new wide-body kit for the Tamiya/Aoshima Toyota 86/Subaru BRZ kits. The Toyota 86 and Subaru BRZ are actually the same car, with each manufacturer adding their own badges and logos. The car was a joint effort between the two companies, in search of the ultimate lightweight and powerful sports car. I think it's great. If you are either a Toyota/Scion fan, or a Subaru fanatic, you have your choice of a sweet machine that will leave your friends jealous and you'll have a smile on your face.
The Rocket Bunny wide-body transkit is designed to fit on either the Tamiya or Aoshima Toyota 86 or Subaru BRZ. The Aoshima kits have options for engines, and right or left-hand drive.