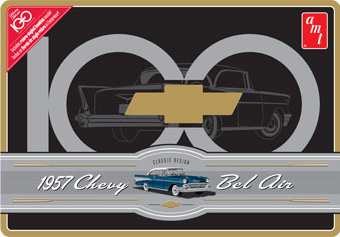 AMT 1957 Chevy Bel Air Two-Door Hardtop  #AMT-741
VERSIONS: Stock
MOLDED COLORS: White, Clear, Red Clear, Chrome Plated, Photoetched Metal
SCALE: 1/25
MSRP: $44.95 USD
REISSUE
Note: this kit comes in a "collectible" tin almost identical to that of the '51 Fleetline, the only difference being the car illustrated.
ENGINE:
AMT's vintage-1962 kit of the '57 Bel Air had a fairly common-for-'57 single-carb 283 (the more recent Revell '57 Bel Air two-door sedan also replicates this engine). This more recent (1998 Ertl) tooling has a superb replica of the "Power Pack" 270-hp dual-quad 283 with the characteristic "bat wing" air cleaner and three-speed transmission (if you're wondering "why not a four- speed?", here's a historical fact: Chevrolet did not introduce that transmission into production until May of 1957. Most production cars that year came with the three-speed unit). Overall engraving on this mill is excellent, including the subtle cast metal texturing. The batwing-style air cleaner is a four-piece assembly with separate elements. One very welcome detail is that the Chevrolet script on both valve covers is very legible and won't get lost under a couple of coats of paint. Attention to detail includes the motor mounts, molded as part of the front cover assembly, and the left exhaust manifold correctly has a generator mounting bracket. Separate engine accessories include distributor (with coil), fuel pump, water pump, generator, fan belt, four-bladed fan, oil filler tube, starter, breather hose, and both upper and lower water hoses. Also included are lengths of black ignition wiring, and instructions on how to drill the distributor and block, the correct lengths of wire for each plug, and the correct firing order. Nice!
CHASSIS:
The frame and floorboards are separate from each other, a common practice with today's state-of-the-art kits, but back in 1998 this was one of the kits that trailblazed this new standard. Overall engraving level on the floor- boards is nothing short of excellent. The kit features an opening trunk, and the insides of the trunk area are well done with fine floor mat detail and a spare tire well. Front suspension is a nine-piece affair with separate upper A-arms, one-piece lower A-arm unit, stabilizer bar, tie rod with link gear, and separate spindles. Poseable steering was not designed into the kit, but is possible with just a little bit of extra work. The nine-piece rear suspension has separate springs and shock mounts, and the two-piece rear axle has visible molded-in brake line detail. Separate also are the motor mount locators for the frame, and the two-piece gas tank. The six-piece exhaust system (that's right, six pieces) has texture and ribbing detail on the mufflers, and drilled ends to the pipes. Yes, that's right, you don't have to drill these out! Underhood detailing is superb to say the least, and besides excellent engraved details, features a separate brake master cylinder, twin heater hoses, steering box, two-piece heater blower, twin air ducts, two inner fenders, a washer bottle, a battery, and two separate horns.
WHEELS AND TIRES:
Only one wheel option is included–plated renditions of the '57 hubcap with drilled valve stem locations and separate spinners. Unlike the more prototypical 1962-vintage AMT kit, the wheels are one piece and not separate steelies and hub caps, so careful painting of the outer rim in body color is called for. The tires are black vinyl BF Goodrich Silvertowns with molded plastic whitewall inserts. A single steel wheel face and one extra tire is provided for the trunk mounted spare.
INTERIOR:
The platform-style interior builds up off the floor pan. Separate side panels have excellent three-dimensional detail and extend all the way back to form the trunk walls, joining at a separate trunk filler panel with good structural detail. Both front and rear seats have excellent engraving for the characteristic upholstery patterns, and the front seat backs have engraved trim piping. The rear seat armrest fairings are separate pieces (it's possible that AMT/Ertl had planned on a convertible variant, which this seems to suggest) and the rear seat unit has the package shelf molded in. Moving to the dashboard, this has excellent engraving throughout and features hanging brake/clutch pedals and emergency brake release. The steering wheel has the horn ring molded in place (very thin, too!), and the column has the shifter and turn signal stalk molded in.
BODY:
There has been controversy for quite some time regarding the shape, length, and width of this kit's body. AMT's original 1962-vintage kit and both recent Revell offerings (snap '57 hardtop and full glue '57 two door sedan) have bodies that are narrower and shorter than the body in this kit–which would suggest to the purist that this Ertl-tooled kit has incorrect proportions. Even taking that as a yardstick of sorts, the body in this kit is nicely tooled and well executed, with very crisp details. The body is one-piece, with the splash pan molded to the body lowers, and a separate hood and trunk. Engraved on the body are the keylocks, side chrome spears, the front fender hash mark trim, front and rear Chevrolet scripts, and the ribbed side coves with Bel Air scripts. Door handles and wipers are separate chrome pieces. Under the roof is a full headliner with molded-in dome light and sun visors. Optional are a pair of factory stock fender skirts. The windshield and rear window fit neatly into the body using positive alignment keys, and the vent window panes are separate thin clear components. The front bumper features separate "Dagmar" tips and the grille is molded separately, and not on the chrome tree–in fact, the grille is molded on a body- color sprue, while the floating grille bar is a separate plated piece with separate tiny clear turn signal lenses. The 1/1 scale grille was anodized gold, something you'll want to keep in mind when building this or any other '57 Bel Air kit. At the rear, the bumper and taillight fairings are molded separately, with small red clear lenses. Headlight bezels feature excellent air intake detail, and the lenses have realistic prismatic engraving. The separate hood has superb underside engraving detail and features separate plated windsplits and front trim bar, and the separate trunk lid has superb underside engraving as well. Superdetailed one-piece hood hinges are an option for those modelers wanting to leave the hood in an open position. The large V emblems for the hood and trunk are on the chrome sprue, but like the grille and front fender hash marks, these should also be anodized gold on a '57 Bel Air, so bear that in mind. DECALS: The all new decal sheet features two custom side scallops in white with black edging, a window sticker decal, valve cover decals, air cleaner markings, underhood data markings, and four sets of 1957 license plates–Florida 10V 8553, California LTH 392, Michigan TU 6632, and Indiana MA 2942. All the plates are a bit undersized, however. The decals are matte printed.
OTHER:
Included in the collectable metal tin the kit is packed in are a small sheet of chrome foil for window and side trim, an 18-page booklet with historical photos and advertising artwork of '57 Bel Air hardtops from GM's historical archives, and a sheet of photoetched metal parts featuring the two ribbed rear side coves, Bel Air scripts, Chevrolet scripts, front fender hash marks, rocker panel trim, keylocks, front and rear V trim, windshield wipers, 1957 CHEVROLET license plate frames, and two small Chevy crests. The instruction sheet has a great deal of helpful features, including how to use the chrome foil and photoetched parts, and a comprehensive chart of all '57 Chevy exterior colors, two-tone combinations, and interior colors.