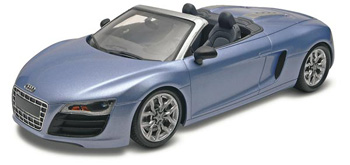 AUDI R8 SPYDER Revell #4940
VERSIONS: Stock
MOLDED COLORS: White, Clear, Satin Plated
SCALE: 1/24 MSRP: $21.99 USD
NEW TOOL
ENGINE:
The 5.7 liter V-10 is represented here by a 19-piece assembly. Overall engraving level on the components is very good, better than many recent toolings from Revell of Germany (from whom this kit originates.) The six-piece engine cover obscures most of that fine detail from view, as does its mid-engine placement. No less than seven decals adorn different areas of that engine cover, which is a very nice touch indeed.
CHASSIS:
As with most supercars today, the chassis builds off an aerodynamic pan and the R8 is no exception. The pan has the lower A-arms of both front and rear suspensions molded in place and features excellent underside detailing. All four wheel housings are separate from the pan unit. Front suspension is an eight-piece assembly with poseable steering, and the rear suspension is a six-piece unit with fine coilover detail. The all-wheel-drive aspect of the R8 is replicated well here, though it wouldn't be seen unless the body was removed. Detailed disc brakes with caliper detail are at all four corners, and you have a choice of Audi or R8 logos to adorn the calipers. The exhaust system is part of the engine unit, and is nicely done, with separate plated exhaust tips that only need some black paint inside to deepen the visual impact.
WHEELS AND TIRES:
Plated five-spoke Audi cast wheels with separate plated spiders ride on black vinyl big-and-little no-name wide low profile tires with excellent tread detail.
INTERIOR:
The interior bucket has the console and rear wall molded in place. Side panels are separate and have very good armrest representations. The seats are two-piece, with fine engraved detail representations of the side seat adjustment controls. The dash is a four-piece unit with separate instrument hood, column (with stalks), and flat-bottomed steering wheel. Dash engraving is first rate, and no less than nine decals adorn it, including gauges, multifunc- tion panel, and horn button. Separate detail parts include shifter, brake lever, console trim, and hanging pedal unit (with dead pedal footrest.)
BODY:
The R8 Spyder isn't just a coupe with its roof whacked off; it's a whole new body design, captured very well here. The one piece body has the front fascia molded in as well as the characteristic louvers on the rear deck. Those louvers and the side scoops are molded open. At the front are a separate plated grille (Euro-style) with Euro-style license plate, two five-piece headlight units with separate lens covers and reflectors, separate louvered gills, and a chromed Audi four-rings logo. At the rear is a separate fascia panel with separate rear trim panel containing louvered gills, Euro-style license plate, clear taillight lenses backed by deep chrome bezels (get that transparent red paint out, folks), rear spoiler lip, clear high mounted center brake light lens (transparent red again!), gas cap, and another chrome Audi rings logo. The side scoops have blanking plates, and this as well as all other open scoop, louvered, and gill areas have decalized black grille mesh. Two-piece side mirrors have plated faces, and the wipers are delicate separate pieces also. The rear engine hood has excellent underside engraving and is hinged at the front end. Optional is an up-top with clear rear window and optional clear side windows. The windshield frame is molded to the body but has a separate inner liner panel with overhead spotlight engraving and decalized light lenses. The windshield itself has the area to be painted semigloss black clearly marked out for masking, with a separate rear view mirror. All clear parts are very thin and distortion-free.
DECALS:
In addition to what we've already mentioned, the extensive decal sheet also includes all three mirror faces, wheel centers, R8 and V10 logos in silver, amber turn signal areas for the taillights, and your choice of Euro-style license plates–white and black SPYDER, black and white Audi rings, Netherlands 11-DOA-1, France SP-313-DR, Italy BO 525 PS, Great Britain R313 FST, and Germany IN R 8101.