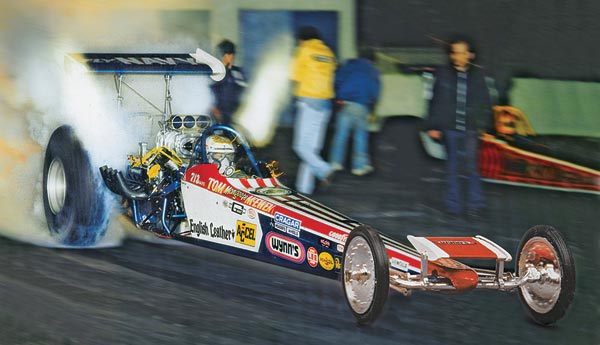 TOM "THE MONGOO$E" McEWEN RAIL DRAGSTER Revell #4908
VERSIONS: Dragster
MOLDED COLORS: White, Clear, Chrome Plated, Metallic Gray Polyethylene
SCALE: 1/24 MSRP: $21.98 USD
REISSUE
ENGINE:
The 27-piece Ed Pink Hemi is likely one of the best representations of this type of mill in 1/24 scale. It's much better detailed than the Hemis in other Monogram drag racing kits of the '70s, including the Snake and Mongoo$e funny cars and dragsters, and the Cop Out Duster (which really only is the Mongoo$e Duster with a light bar!) Some of the nicer features of this engine unit are the two-piece Lenco transmission, the nicely done valve covers with indentations for the breather units, the blower and intake manifold already pre-drilled for fuel lines, and the one-piece header units with support bar in place and the ends pre-drilled. Monogram tried something new with this kit back when it (and its Snake double) was released in 1974–engine wiring and plumbing molded in flexible polyurethane, and that has been repeated here in this reissue. The parts include the distributor/magneto top with all eight wires molded in place, the oil lines that connect to a pair of externally-mounted oil filters, and the fuel lines (a one-piece unit) encompassing lines to the tank, the fuel pump, lines to the distribution blocks, the lower fuel lines, and the upper fuel lines. As I said before, these are molded on a sprue of gunmetal gray polyethylene. Poly- ethylene is a very flexible plastic, but paint generally does not stick to it very well. There are ways of priming the material–I read once that coating it with thinned white PVA glue works–but I cannot attest to the success of this or any other method. Some of us will likely deep-six the polyethylene parts in favor of doing things the "old school" way–with wire, some parts from the aftermarket and /or parts box, and a little bit of scratchbuilding–and that's fine too.
CHASSIS:
The Don Garlits rear engine dragster chassis is a one-piece molding with one separate stiffener, side mounted airfoils, and one separate bulkhead/ support–a real testament to Monogram's ingenuity back in the "good old days." There are some mold lines here that you'll want to take some time to clean up. Front suspension is a four-piece assembly based on a chrome tubular dropped front axle, to which attaches a three-piece airfoil. At the rear is a five-piece solid-mounted axle with disc brake calipers, the main section of which is chromed. Also at the rear is an eight-piece airfoil/support/parachute pack assembly–nicely done all in all, though you may need a bit of filler on the underside of the airfoil section. The fuel lines (see section above) attach to a separate plated fuel tank. Interesting that there is an extra front tube axle on the chrome sprue, a bit longer than the one intended for use here.
WHEELS AND TIRES:
At the front is a pair of motorcycle-thin skinny O-ring tires mounted on two-piece chromed Cragar SuperTrick wheels. At the rear is a pair of large no-name slicks mounting on a pair of two-piece deep-dish plated Cragar SuperTrick wheels. M&H and M&H Racemaster white tire markings are provided on the decal sheet for the slicks. Note that on the vinyl sprue with the slicks, you get a free pair of Pro Stock/Pro Mod front tires. Hello, spares box! INTERIOR: All the requisite dragster interior components are here: butterfly steering wheel and column attaching directly to the front axle steering gear, pedals, shifter, and brake lever. The seat and associated roll cage is a three-piece assembly, however, there is no seat detail, upholstery, etc., as Monogram provided a four-piece driver figure intended to fill that space. If you don't want the driver figure, the seat itself and its associated upholstery must be scratchbuilt, including the belts and harnesses. The seats from nearly any of the 1/25 scale rear engine dragster kits available over the years from AMT, MPC, or Revell are too small, but can be used as a pattern to scratchbuild a new seat. BODY: The basic body comes in two sections: one-piece lower and three-piece upper, which removes to show the internal detail. Simple but effective. Not much more to be said here except make sure you remove the mold lines on the upper body unit as they are quite prominent. DECALS: The decal sheet provides all the markings necessary to replicate the Mongoo$e's late-1974-75 English Leather-sponsored ride. Well printed and thin, the decals are of excellent quality.
OTHER:
Included in this kit is an excellent six-piece Chrondek "Christmas tree" timer that works nicely in a diorama setting of a dragstrip starting line. PRE- STAGED, STAGED, and CHRONDEK TIMERS letting in white is provided on the decal sheet for this accessory. Also included is a two-piece standing crew figure with his hands over his ears!