Model Cars Magazine is dedicated to the art and hobby of model car building. Each feature-packed issue contains helpful articles and items of interest, including kit reviews, new product announcements, "how-to" tutorials, build breakdowns, industry news and interviews, and much more.
No local club? Stumped by a kit? Our forum has your back. Ask your questions, post your progress, or show off your build. Who knows, you might end up featured in our Forum Finds.
Issue #218
We have a little something for everyone in this issue. Plenty of contest coverage for inspiration and some very interesting builds. We hope you enjoy it!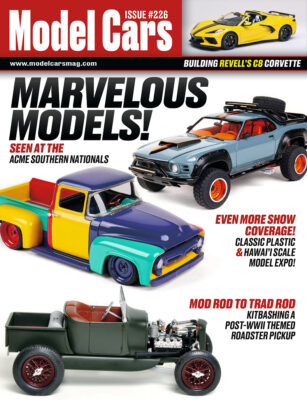 Where to Buy Model Cars Magazine
We now have a list of hobby shops that carry MCM on the web site. If your local hobby shop doesn't carry it, ask them to contact us. You can find our dealers here.
Digital Version/Copy of Model Cars Magazine
We have digital copies of the magazine now available on Magzter.com Magzter.com Model Cars Magazine Link