Model Cars Magazine: Back Issues (US Addresses Only)
---
Order back issues by sending us an email through the contact form below. As of July 26, 2018, we have run out of Issue #192 and #175. All the rest we have in stock.
We have a few of the first issue, the Premier, and they are also available signed.
Back issues cost $10, postage paid, for each issue, US Addresses Only. You can save money by purchasing more than one, up to six or so will fit in the USPS Flat Rate Envelope. When you send the request form below, we create an invoice using PayPal, AFTER we have confirmed that we have the back issues in hand. This takes usually a few days, and we ship them out as soon as the invoice is paid. We are also now shipping the back issues inside of clear plastic bags, inside the mailing envlope.
NWe are also working on creating a full digital/PDF archive of all the prior issues, which is another one of those projects on our never-ending "To Do" list.
We will be updating the Back Issues Pages soon.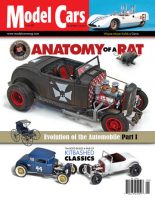 Inside Issue #203
Dr. Cranky's Lab-RAT-ory Anatomy of a Rat
Evolution of the Automobile, Part I
Tim Boyd builds a pair of Kitbashed Classics
Trucker's Corner
1941 Chevy Makeover
Studebaker Lark V8
NNL East Coverage
Out Of The Bottle, by Wayne Moyer
Revell's new Ford Bronco
Inside our Annual Contest Issue!
Show coverage from all over the country!
80 pages of full color coverage of some the best shows from all over. See what others are building, and get your copy today!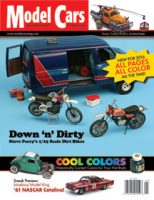 Inside the January 2016 Issue:
Down 'n' Dirty
Steve Perry's 1/25 scale dirt bikes
Cool Colors
Atlanta Southern NNL show coverage
Darryl Gassaway shows us the NHRA Museum
Commercial Break:
Pick Up Lines, by Chuck Most
SNEAK PREVIEW:
Moebius/Model King's Joe Weatherly #8 1961 Pontiac Catalina
Trucker's Corner
Kit Reviews
And now, full color, all the way...Read More »
---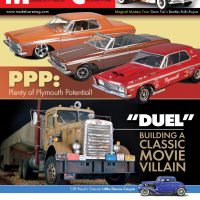 Inside Issue #200
Plenty Of Plymouth Potential
Tool Time
Scratchbuilding School, converting a crew cab to a single cab
Commercial Break: Planet Caravan
Diecast Deuce
Tamiya's New Mazda MX-5
Building the Duel! movie truck
Trucker's Corner
Download the digital version (as a high-resolution PDF) here: Digital Issue #200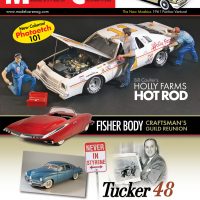 Inside Issue #199
Chrome Plating 101
Moebius' New 1961 Ventura
Never In Styrene:
Preston Tucker's ill-fated "48"
Fisher Body, The Craftsman Guild Reunion
Holly Farms Hot Rod
...
Read More »
---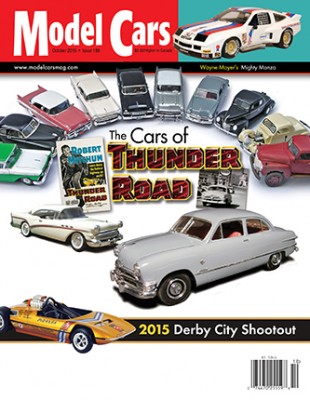 Inside the October 2015 Issue of Model Cars Magazine:
The Cars of Thunder Road
Wayne Moyer builds the DeKon Monza
2015 Derby City Shootout Coverage
and much more!
...
Read More »
---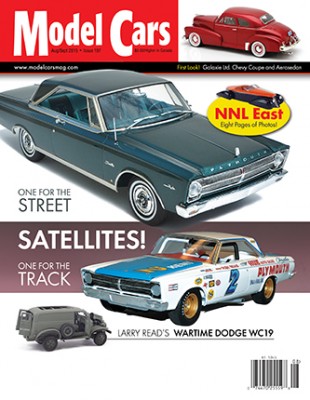 Inside the August/September 2015 Issue of Model Cars Magazine:
Eight Pages of NNL East Coverage
One For the Street, Mobeius Plymouth Satellite
Larry Readsʻ Wartime Dodge WC19
Galaxie Ltd.ʻs New 1947 Chevy Coupe
Resin conversion of the AMT '40 Ford
Curt Raitz's Bonneville record holder
and much more!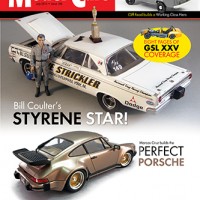 Inside the July 2015 Issue of Model Cars Magazine:
Eight pages of GSL XXV Coverage
Bill Coulterʻs Styrene Star
Marcos Cruz builds the Perfect Porsche
Cliff Reed Builds A Working Class Hero
And much more!
...
Read More »
---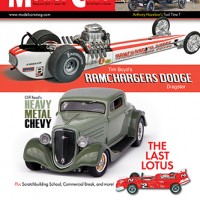 Inside the May/June 2015 Issue of Model Cars Magazine
Tim Boydʻs Ramcharger Dodge FED
The Last Lotus, by Wayne Moyer
Anthony Hazelaarʻs Tool Time T
Scratchbuilding School
Commercial Break
and much more!
...
Read More »
---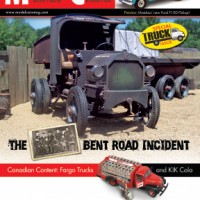 Inside the April 2015 Issue:
Bill Borgen's "Bent Road Incident"
Moebius' new Ford F100 Pickup Truck Kit
Inspiration Files: Ford C Series
Canadian Content: Fargo Trucks and KIK Cola
Old School Custom
Vantastic: Commercial Break
Book Reviews
New Products
Trucker's Corner
Kit Reviews
and much more!