No, no... not the 'good' one from a few years back. This is the original 1990 version.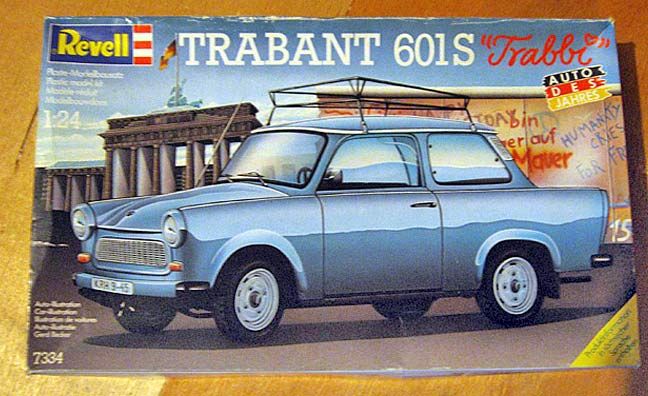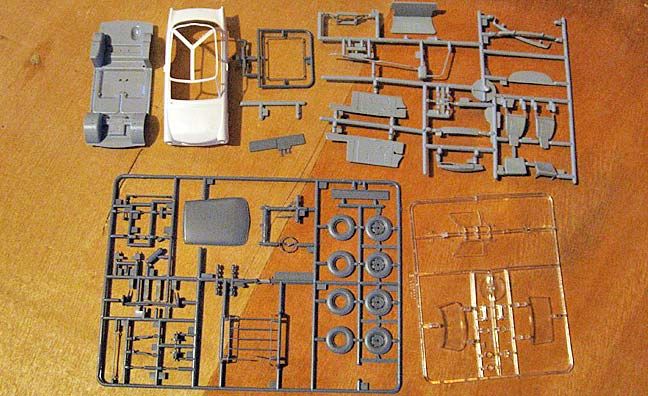 HIGH POINTS:
It's a Trabant
Not many parts, so no chance of getting bogged down trying to superdetail it.
Cool box art. (Nothing to do with the kit itself but worth mentioning).
Won't see 60 of these at the next show you attend.
Decent molding quality overall.
LOW POINTS:
It's a Trabant.
Not many parts, so no chance of having fun trying to superdetail it.
Chassis has roughly the same amount of engraved detail as a typical Hot Wheels release.
Tires have sidewall lettering, but NO TREAD. Wheels are also molded into them.
Extremely shallow panel lines, nonexistant upper door (window frame) cut lines.
Frail roof pillars almost guaranteed to be broken or warped if you order it by mail... and that's before you cut out the Y-shaped support. Same deal for the optional roof rack.
OVERALL:
If you want a Trabant model and don't want to expend a ton of effort, go with this one. It's almost laughably crude in some areas, but I've seen a couple of these nicely painted and detailed, and they're pretty good shelf models. And it has most of the basic visible elements right, and just enough detail to not look too toylike. If you want something a bit more involved, go with the newer Revell Trabant kit, the 601 'Limousine' (?). A simple Google image search will bring up all kinds of potential Trabant projects- everything from art cars to tuners, to one that's been cut in half and turned into a horse-drawn buggy.
Edited by Harry P., 24 July 2012 - 12:31 PM.