I just found this old '61 Comet promo that, though I can't recall exactly when I got it, I do know that it was given to me by a man from Marysville, WA. from whom I used to buy models on a regular basis. That was well over 20 years ago and he was going to throw it away. So, having a real soft spot for star puppies and orphans, I brought it home and it has been sitting on the back of a shelf hidden behind an old wired remote control tin Ford tractor w/loader and back hoe. Neither item has been touched or moved in literally decades - probably in excess of 20 years. There were a couple of other surprises back there too.. stuff that I had forgotten that I have.
I am wondering of someone has a broken or badly hacked and customized scrap body from which I could remove the roof to put this car back together. It's missing the taillights as well and the rear bumper is broken but I will replace those from Modelhaus. The body is un painted and clean and too good to just toss. These are not my all time favorite car but it is old and that's good enough for yours truly as far as justifying the work to make something of it.
I will trade for a parts body shell - I do not expect it for nothing. It's just one of those models that not a lot of people appreciate if it beaten or if it a glue bomb. I am just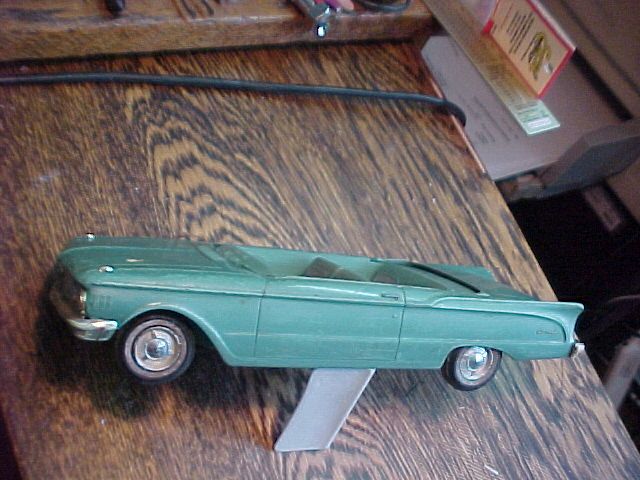 hoping someone has what this one needs.