Hi guys, please bear with me as I have a story to tell, in order to do justice to why these are now tribute builds & not a B'day present anymore.
Since its now the 1st of Jan' 2013 in my part of the world & since this particular day had special meaning, other than being the beginning of a new year to me, it was my best friend's B'day. I have known him since before I was 15yo, I'm now 6mnths short of 42yo. Today he would've turned 43. He was more than just my best mate. He was the brother from another mother. The past 26yrs+ that I've celebrated 01.01 was always for his B'day not for a New Year. That was just a secondary thought.
So where do I begin, in explaining why my heart is not just broken, but completely shattered? I planned all these builds many months ago, mid-way through last year, after reading a thread here, about a guy who dilly-dallied over several years, building a replica of his BF's 1:1 ride. ( think it was a Dodge Demon or Plymouth Duster?) I was so sad reading that he didn't finish it in time before his mate passed away. I said to myself, that's not going to happen to me. Although over the years/decades, I'd built & given my BF several cars, I hadn't built a replica of any of his 1:1 rides & I hadn't built or given him anything in quite some time. I came up with a plan & gave myself enough time to execute it before his 43rd B'day, today.
His 1:1 car was a Mitsubishi Ralliart Colt turbo. His favourite car of all time was the Corvette. His latest love was the new Camaro, after seeing it in the flesh 1 night we were out in downtown Sydney. My plan was to build all 3 but I would not tell him about the 2 Chevies. That would remain a secret until today. I would & did give him updates on the Colt, right up until I clear-coated it. The plan for the 2 Chevies was to incorporate the theme/colour scheme & logo of his favourite & beloved Rugby League team, the Parramatta Eels. ( Home base in Parramatta, west of Sydney, 15-20mins from where he'd lived all his life )
I worked on & finished them a couple of months ago as I wasn't going to do any major mods besides bigger wheels & a themed custom paint job. I knew the Colt would be the big time soaker. There's quite a big difference between the stock Colt & the Ralliart Version. ( I'll add pics so you can see the difference yourselves )
I actually had to re-do everything, buying a second kit, because with my first attempt there was a problem with the gloss black paint. Couldn't figure out what is was & tried to strip & re-paint it. It didn't work, the oven cleaner tore up all the styrene & putty & it started to fall apart. I learned from my mistakes with the first attempt & I was actually very happy with the 2nd. It's turned out much more accurate to his 1:1. I even bought a display case & customized it to fit in with the whole Parramatta theme.
Anyway exactly 2 weeks ago today, Dec' 18th, while I was sitting at the bench, around 1030am, completing the final polishing on the Colt before I was going to start assembling it, I got a phone call from his sister....
She asked me to sit down. I said I was sitting down, what's wrong? She said... We've lost him, we've lost him. Paul's gone. He's gone. I started gasping... My brain knew what she was trying to tell me but I just kept denying I heard the words... I began shouting, what do you mean we've lost him? Where is he? I'll go & get him!! Again & again I shouted where's he gone? Where's he gone!?? I'll go & get him! She kept saying he's gone, he's gone. Right then I felt the sledgehammer smash into my heart, my chest. All the air in my lungs was escaping & I couldn't breathe any in, it was like I was drowning. I hung up & dropped to my knees, gasping for air, my head running in a thousand different directions. Was this a joke? Of course not. His sister wouldn't play such a cruel joke on me. Never.
I immediately rang my employer & went off sick. I then rang a very close friend of mine & told her what had happened & that I couldn't drive to Sydney by myself. I was by now shaking & trembling far too much to face a 1.5-2hr drive to his house. She immediately dropped everything & I picked her up ( she only live's 5mins away ) & she drove me to his house. I was numb all the way, praying I was dreaming & this was all a cruel, cruel joke....
It wasn't. He had passed away from what look's like a massive heart attack, 2 weeks shy of his 43rd B'day. There are no words to describe his loss. There are no words to describe my pain. There are no words to describe how devastated I am. I have lost the only person I call brother & meant it. I know, as all my friends & family have said, that time & time alone will heal the pain. That's true but nothing will heal the scar. The scar will never fade... In time my heart may be pieced back together but the scars will always remain. My memories will remain.
So many times during the builds I wanted to show him WIP pics & even when I'd finished the 2 Chevies but I resisted time after time because I wanted to give them to him today. I wanted to surprise him, I loved seeing him be surprised. He was such an awesome bloke. I wanted him to unwrap them... See his eyes light up, hear him say WOW! I wanted to give him a hug & say you deserve it mate, I told you I'd replace all those all models I gave you. Now you'll have another memory... For us to chat about on your next B'day. Something I'd be proud of, for him to show all his other mates. He was so excited about the Colt. He wanted to post pics up on his 1:1 Colt Ralliart website & to make all the other owners jealous that he had a scale model of his 1:1 & that his best mate had made it for him. I'm so shattered.
I'd like to thank my best Brazilian mate, Cesar Bossolani for encouraging me to post this. For not for him I probably wouldn't have. I've known Cesar for 2 or so years, haven't even met him yet, but feel like I've known him for decades. What an inspirational & tremendous guy he is. Thankyou Cesar. & thank all of you who take the time to read & see this thread. I want to tell any of you, who have thought about building a model, because sometimes that's the only skill we have, for a BF, a mate, a family member or for anyone else you care about, don't leave it too late! Do it & do it soon! I don't think I left it too late but then again I didn't think my bro' would die of a heart attack aged 42. Peace.
Here's some pics....
Stock Colt Kit...
His 1:1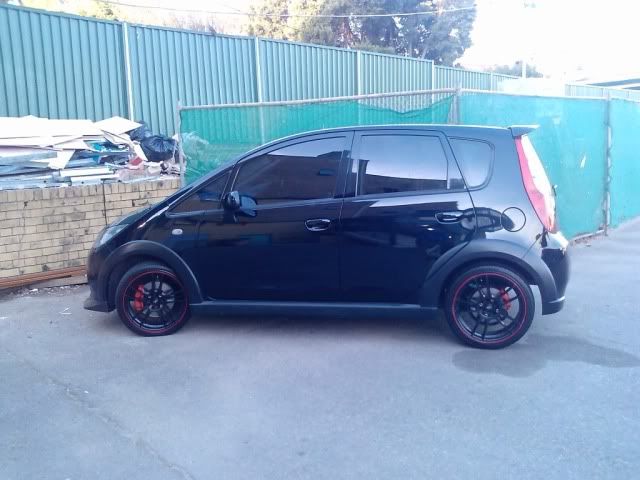 The Model Colt...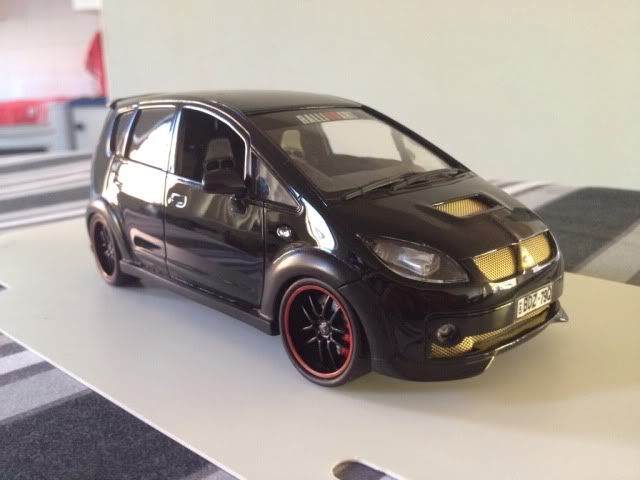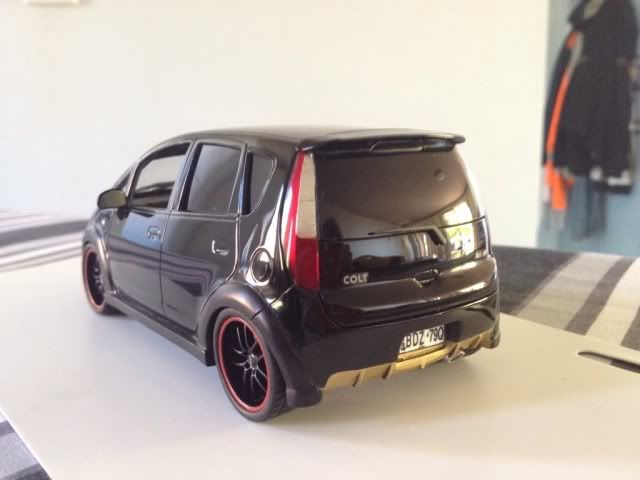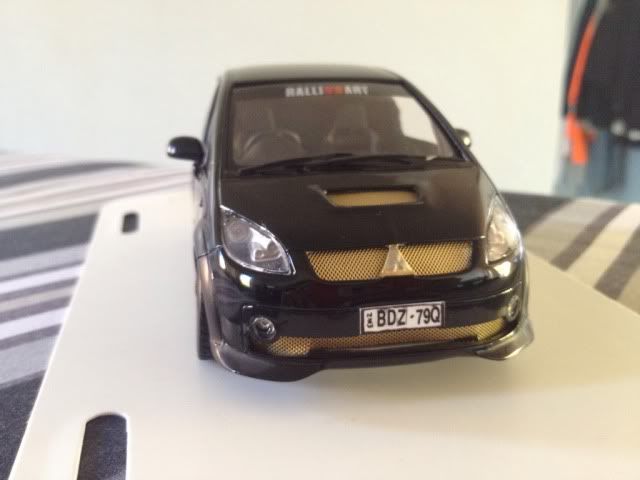 Camaro/Vette next...