Well, this may well be a first.....can't recall having posted a WIP for anything other than large scale, at least not for a very long time....

So, the newly tooled 1/25 Cuda from Revell. I can honestly say I was really looking forward to getting my dirty little paws all over this one. And I ain't disappointed. 
My decals arrived flat, packed neatly at the bottom, most parts don't appear to have a real lot of flash, if any at all....
My only gripe was with the hoods. Both warped, one far worse than the other.

  I tried to straighten it, but my clumsy hands over powered it and........S N A P !
And guess which hood that would be???? Yep, the shaker. 
So, that result pretty much drove me in the direction I've gone.....hot street car, full of Hi-Po options reminiscent of what was available back in the day...
Big'n'little Cragars, wide meat out the back......you get where I'm heading......
I would have gone with a factory stock Hemi, had the hood survived.
Well, to start off, I glued the motor sections together, where all good builds start, right.

  And looking through the parts trees, I was kinda shocked/surprised, not
to see the familiar Hooker style headers. I mean, these have been in nearly ALL Mopar offerings from Revell for how long? Well, forever it seams.
Nope, not this time.

  Even though other "custom" items are included for a street machine version, no headers.....
I sent word to the exhaust shop that I needed a new set of Hookers made up. The boys worked tirelessly for two nights.
Once they arrived here at the shop, I had to add some 4-into-1 collectors, scavenged from an old set of pro stock headers. Flanges were added and drilled to accept some tiny
bolts from RBMotion. A reducing cone was shaped from 3.2mm tube, it will allow the 2.5mm (75mm in 1:1) exhaust pipes to be fitted towards the end of the build.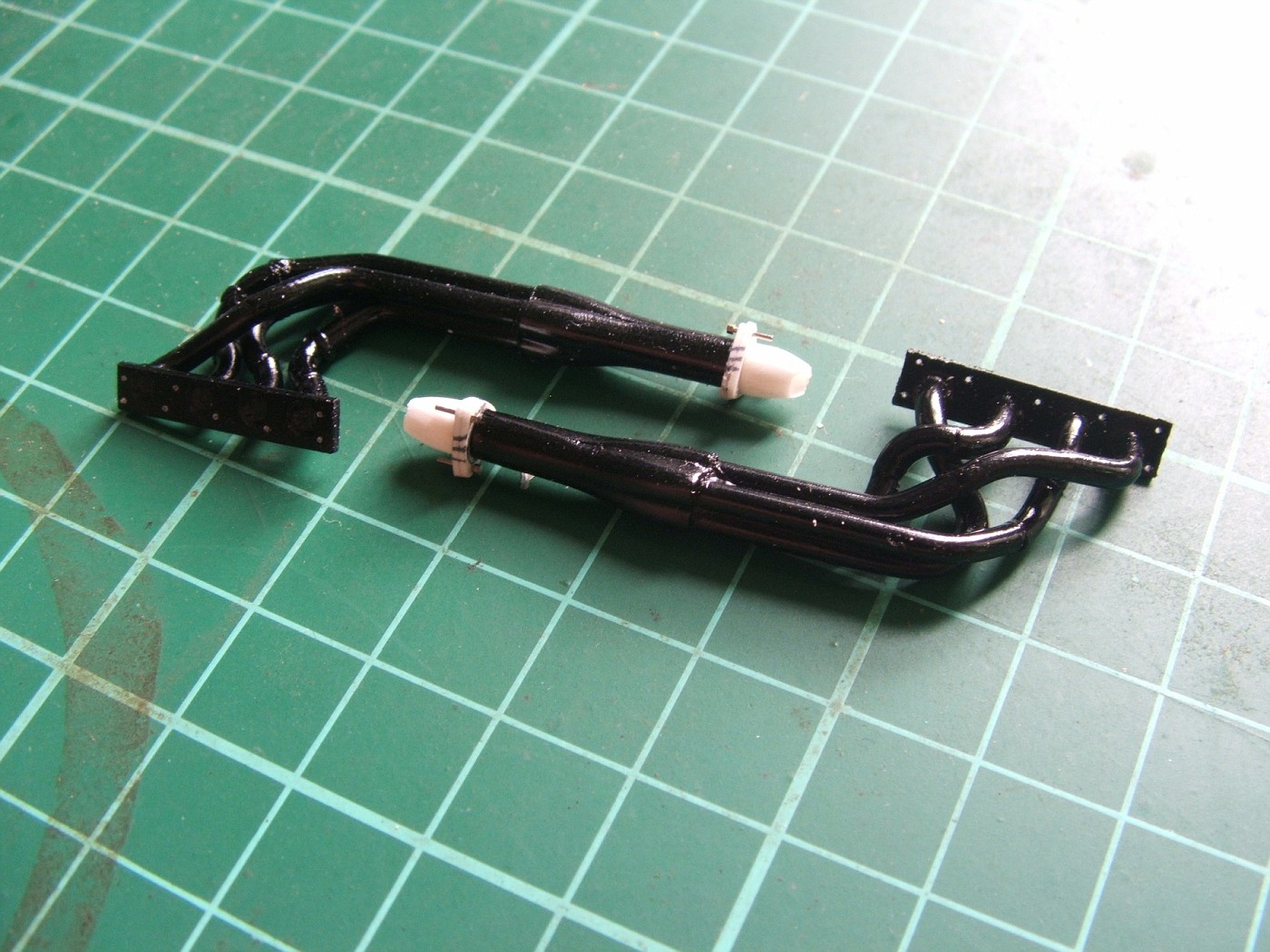 Finally got them finished today, well tonight....only about an hour ago (10.30pm local time). They are now glued in place on the motor, so a final "test" fit in the morning
will tell me if we got the measurements and sizes correct.

  The chassis has already had extra meat taken out for clearance at the motor mounts.
Not real clear, sorry, but you can see both sides now have a notch to allow header fitment.
Induction wise....I opted for a single hi-rise Torker style inlet manifold. I've got a pic saved with what I wanted, but after searching my hidden stash, come up blank. 
What I did find was an old NASCAR Ford inlet. Ok, so the runners don't match the Hemi heads.......
I carefully sliced/sawed it down the centre, front to rear, then added a wafer thin piece of sheet stock between the two halves, and re-glued, aligning the runners to suit the Hemi.
I had to modify the inlet on top as well, so this was built up with scrap pieces and some putty.
With some new side plates and a base, some extra putty, I was pretty pleased with this result.
So, the chassis has been through round 1 and 2 of proceedings, I filled un-necessary wholes, removed the raised copyright marks and so on.
I drilled a lot (all??) of the chassis holes as well, just to give them a more 3D appearance. It got a coat of primer and colour coat today, and I started running brake and fuel lines tonight. I will get some more pics tomorrow.
Stat tuned, I'm not sure how long this will take, but it should build quicker than my 1/12 projects.

Cheers
Greg