This is my entry for the 2013 Cannonball Run CBP.  http://www.modelcars...showtopic=68187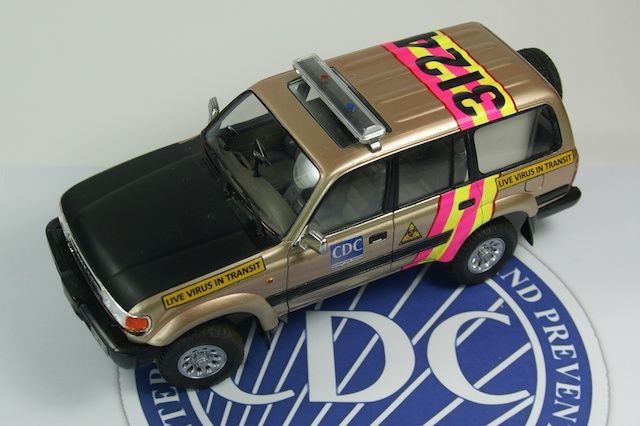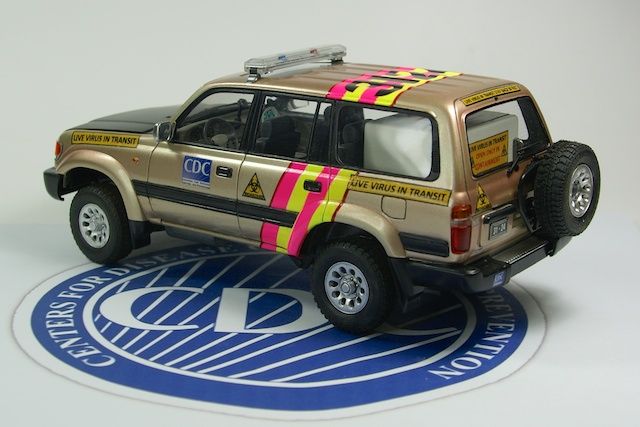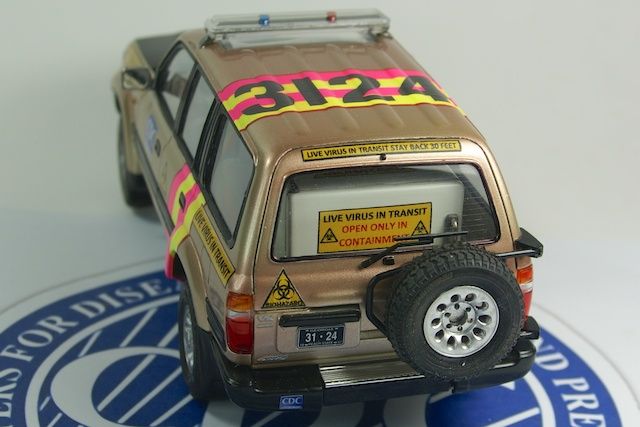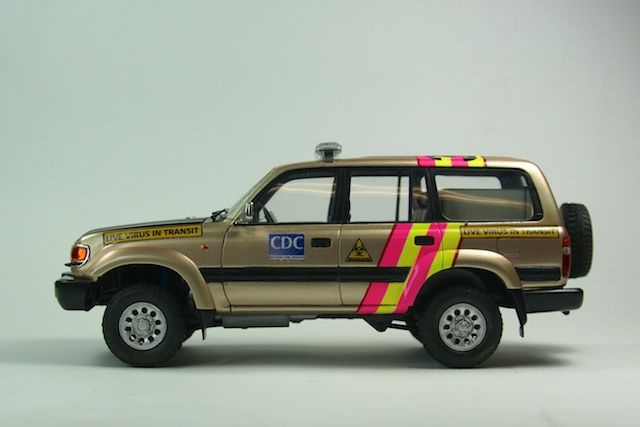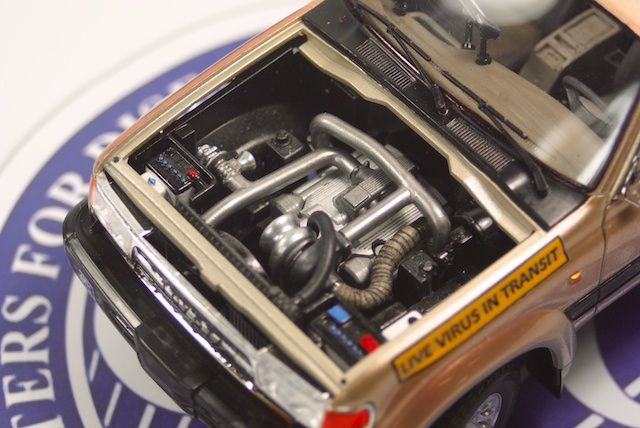 That's an 80 series Landcruiser fitted with a 1UZ-FE engine (Toyota Celsior/Lexus LS400) bored out to 4.3 litres and boosted to 500hp with a Javelin Engineering Turbo & intercooler kit.  Javelin Engineering competition shockers and progressive rate springs tame the ride.
My thinking behind this year's build was speed, comfort, range, ability to take avoiding action and not getting stopped.
Not getting stopped being the most important because once you're pulled over chances are you're out of the car and into the cuffs.
Hence the paint job.   When the cops work out what's going on and block the route and wave the rest of the runners down they'll take one look at the CDC signwork, the biohazard warning signs, the fridge and the occupants biological protection suits and just wave us through.  Would you want to get too near this thing and risk contamination (not to mention blindness from the paint job)?
The fridge is a standard mobile laboratory grade secure transport unit.  If you were brave enough to open it you'd find the expected sample racking containing some fragile looking test tubes.  But release the hidden catch, swing out the racks and you'll find chocolate, sandwiches and iced coffee sitting above the top of a 100 litre auxiliary fuel tank.

It's a Tamiya Toyota Landcruiser 80 Series With Sport Option kit with the engine from a Tamiya Toyota Celsior mated ot the stock transmission.  Because the "with sport option" kit comes with a lift and big tyres I dropped it back down to the stock ride height and used the wheels & tyres from an Aoshima Mitsubishi Delica.  I'm pleased to say the steering still steers and the suspension still works like Tamiya meant it to.
Turbo is from www.ThePartsBox.com.  Intercooler is a radiator from my parts box.  Fridge, both iPhones and the iPad are all scratchbuilt.  Lightbar is from a Lindberg Dodge Charger Police Car and is rather lacking in detail.

Paint is a champagne mixed from dregs of various rattle cans.  Stripes are nail polish and Tamiya enamel.  Clear is automotive acrylic.  Decals are home made apart from the roof numbers which are from the afore mentioned Lindberg cop car.