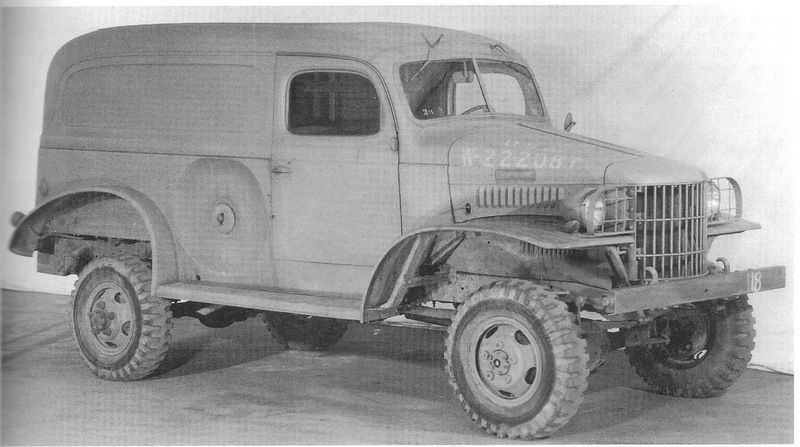 Military photo of the Dodge WC series 4X4 Panel truck. During WW 2, Dodge made a plethora of WC series military trucks including 103 of these WC19 panel trucks.
My brother, Larry, just supplied me with photos of his now completed 3 month modeling effort...a 1/25 scale 1941/42 Dodge WC19 military 1/2 ton 4X4 panel truck. He tends to build models of vehicles that aren't available as plastic kits or diecast, and this model is mostly fabricated of soldered brass, though a diecast Coca Cola promo became the starting point for the basic panel body. That body shell then required lengthening and re-sculpting, brass door hinges fabricated, and all the internal structure created. Brass was also used for the firewall, cowl vent, opening windshield, left door rear view mirror, etc. The inner door panels, floorboards, axles, transfer case, motor, transmission, safety brake assembly, brake backing plates, and wheels/rims are scratch built using a composite of styrene and brass, while all working steering components (king pins, tie-rod, pitman arm, drag link, etc.) use brass exclusively for durability. The bucket seat structures are brass and can be pivoted forward but the styrene seat cushions are actually covered (upholstered?) in super thin leather (from used 'kid gloves'). Brass was used for the frame rails, cross members, bumpers, fenders, gas tank and filler tube, main spring leaves, fuel line, brake lines, etc. Aluminum tubing was used for the exhaust system. Actually, the only components not scratch built or heavily modified are the headlight lenses, the tires, the steering wheel, and the interior rear view mirror. 
This was Larry's first effort at creating a military vehicle and, though he admittedly prefers a model with a high gloss paint finish, he claims he has grown to appreciate the 'olive drab' on this particular model. The total time spent in research and actual fabrication has also caused him to no longer see the prototype vehicle as ugly or ungainly. Perhaps that's a bit like parental instinct.