Late this summer I picked up this old '34 Ford pickup off ebay 'cause I thought the old paint looked cool and I was the only bidder at $9.99! It's an original issue of the kit, molded in red plastic. The paint appeared to be Testor's Burgundy Purple Metallic applied ages ago. When I got the model, even though the paint was a bit rougher than I expected, I still decided to disassemble the model, clean it up (smelled like an ash tray full of Lucky Strike butts!), polish the old paint and rebuilt it using some new-old parts from the stash.
Before the rebuild. Note the spare tire cover is a continental kit piece from an unknown kit. Revell U.S. Royal Master tires on custom Barris "flying saucer" wheelcovers from the kit. '32 Ford bumpers front and rear...



After, rebuild with polished-out original paint...



Custom taillights from an original issue kit, BMF on all the bed cover snaps. Wheels and tires from an old-tool Ala Kart. Covered the face of the old spare cover with some sheet styrene, smoothed it out and added some stretched sprue around the outside to represent piping before spraying with Tamiya Racing White and Dullcoat to make it look like a vinyl cover...



'49 Ford steering wheel. Dash and wheel centers painted with NOS Testors Burgundy Purple Metallic...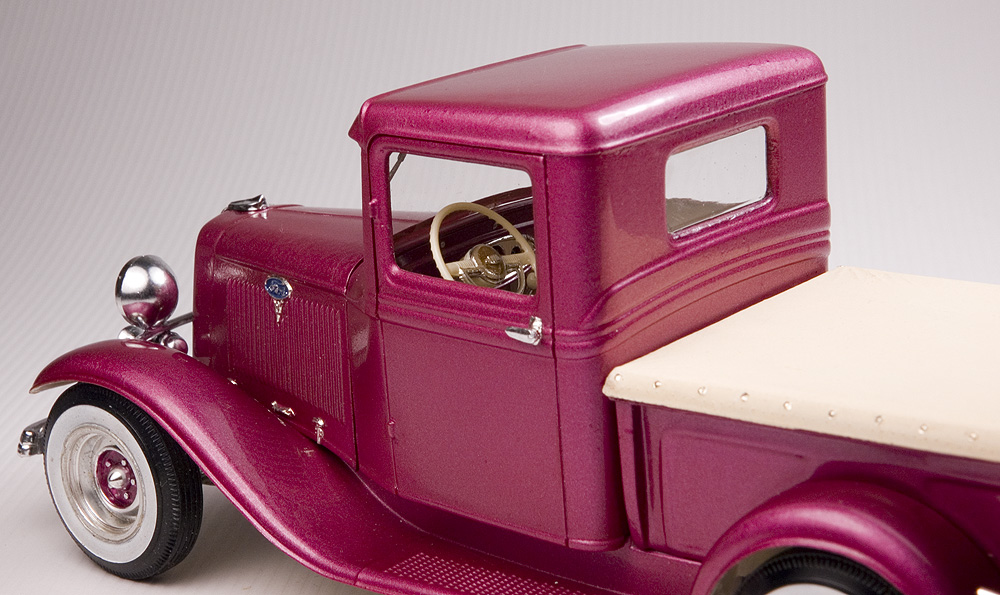 Chassis before. Brush-painted flat red. Underside of fenders brush-painted white...



After. New chassis, original fenders. Wheelbase adjusted, moving front axle forward, rear axle back. Scratch exhaust system from aluminum ground wire. Tamiya gloss aluminum frame, Alclad suspension.



Engine, before with oxidized plating revealing red plastic. Original worn headlight rims in painted buckets...



After. Engine painted Tamiya Lavendar with new valve covers. Headlight assembly replaced, with bracket, buckets and horn in Alclad, plus new radiator cap and emblem...

Edited by John Goschke, 18 December 2012 - 08:53 AM.