I had a couple of badly warped 65 GTO convertible bodies and I figured what the hell, I'm going to cut them up and do some practice altering the wheelbase.
In this photo you can see the white section is a piece from the other body, and even so the bottom edge does need to be restored. The backside is reinforced,
with styrene strips and all seams filled with tiny strips of plastic where possible, a minimum of putty and "filler" type sandable primer.
The glue on hardtop of the AMT kit is poor fitting and to test my skills i grafted in the hard top roof from the Revell 65 Chevelle.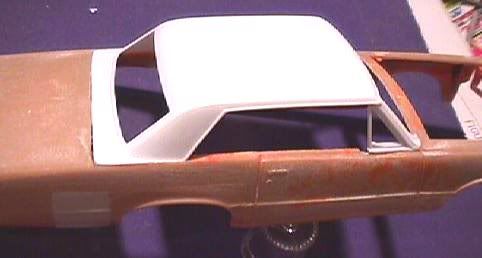 Here's the sanded body and a test fit of the body so far on a chassis I constructed from an altered 65 El Camino chassis and some suspension from my
parts boxes. More to follow soon.